I originally posted my bird bath planter as a guest post over at
Nikki's Nifty Knacks
. I really wanted to have it finished, complete with flowers, so that she could use it when she needed it. I finished it late in the evening and made a late night run to Walmart. So I had to use what flowers I could find there. I've decided to give it a plant make-over and enter it in the first month of the DIY Club: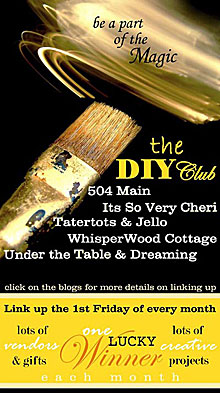 I had another project going in my mind that I would love to have had finished, but time and the weather have NOT cooperated! So I'm doing this instead! ;-)
Here's how I started out:
I used a wooden candle holder and pasta bowl for the base. I gave them a coat of textured (stone look
-spray paint and used Gorilla Glue to hold them together.
Then I added the pedestal made from a piece of a wooden candlestick that I had leftover from another project, a ceramic saucer and a clay pot. They all got a coat of the same textured spray paint.
Please ignore the messy garden in the background, it has gotten some attention recently so that it doesn't look quite so unloved anymore.
I had filled it with potting soil and plants, but today I redid the plants and this is how it looks now.
I also included the Gorilla Glue that I used in the picture today as the original picture had all of my products in it and that won't work for the DIY entry! :-)
You can view all the entries here:
http://itssoverycheri.com/2010/05/07/the-diy-club-inc-party/
I've never entered anything like this….so, I'm nervous!