Updated on December 28,2010: I am entering this project over at The CSI Project. Come on over and check out everyone's favorite projects of the year!
Whew! It's been a very loooonng….but very good day! Our home school co-op meets on Tuesdays from 9-4 so I started there and then I attended the co-op board meeting. From there I went to the ball park for my 9 year old's 5:30 baseball game followed by my 11 year old son's game! We pulled out of the park at 10pm! It's late but I am excited about this project so I had to share…tonight! I'm tired so please bear with me if I a ramble…
I love gardening and plants…but have you ever noticed how expensive plants and containers for them are???? I like the "natural" look of stone on a planter but not the high price tags! Here's a way to get the look without the price tag!
First, you need some black plant containers. My local grocery store gets their floral stuff in these every week and THROWS them AWAY! I almost couldn't stand it when I heard that!!!! They will be saving some for me now….
This one is about a 2 gallon size. Next you will need some foam pipe insulation. It's the stuff that wraps around pipes to keep them from freezing, so it's conveniently slit and has sticky stuff on the slit edges so you can just pop it around your pipe! It wraps around the top of the plastic container pretty well too!
You will want to cut the edges to just meet and join them with duct tape.
Now, in less than 10 minutes, you have a pot with a nice chunky rim. Spray it lightly with plastic primer. I used Rustoleum. I did two light coats. I didn't really do the inside much under the rim…it will have a plant in it anyway!
Then I gave it several light coats of Rustoleum Desert Bisque "multi-colored and textured" spray paint. It's not as heavily textured as their stone look paints and not as expensive either. There are other colors in this type of paint.
It's lightly textured and looks like a stone finish! It was soo easy to paint and if you didn't have to wait for the paint to dry, in between coats this would take about 20 minutes to do! I'm going to try one in some of the more textured stone paint next…since I know it will work now!
Here it is complete with plant:
My kind of project…easy, fun and FAST!
Milk Maid…your post is coming tomorrow after I get some sleep! :)
Sharing this at these fun parites: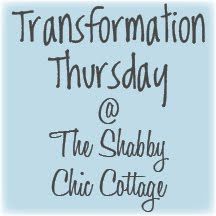 I found some new places to PARTY!