At least I think it is! :-) I love the actual crafting, the spraying of the paint, browsing the thrift store or dollar store and wondering "what can I make out of that?"  I also love comments, they make my day!! But when I see my name in print …with a picture of a project…on someone else's bog, it gives me goose bumps! I love  that something I was able to create inspired someone else!
Lori at Life as Lori and Veronica at Veronica's Korner featured my Bird Bath Planter this week.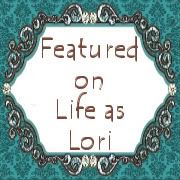 Many of my projects have been inspired by others and although I don't do a regular "feature" I always try and link back to my original inspiration and then let the original poster know that they have inspired me. I think that's what it's all about…inspiring, sharing, and having a great time while we are being thrifty and creative!
Have a great weekend!
PS If you think you can't be creative, look at the project below…EASY and creative!
Check out this party and meet new friends!