My 11 year old son is an avid birdwatcher and has become very good at identifying birds by sight
and
sound! He even has adults asking his opinion on bird identifications! He loves to take pictures of them and will spend hours outside patiently waiting on his next shot! He was presented with a very special photo op Friday evening at his brother's ball game. A very large bird flew into the top of a pine tree and he quickly realized that it was a Bald Eagle! They are not seen around this area very often and so many people ended up watching the Eagle instead of the game! lol He stayed atop of his perch for the whole game, being "mobbed" by crows, and my son snapped quite a few pics:
These were taken with a point and shoot camera from across the ball field and up to the top of the tree!
My son's love of birds may be part the reason they have had so much appeal to me this spring. In the past, I would have passed up the many bird decor projects, but not this year! I have some still on my "to-do" list but no time! I was finally able to complete one, inspired by these Ballard Design Birds:
They were especially inspiring to me because of their description:
"Original wooden birds like these were used in 19th century classrooms to teach students how to identify regional species. Our wooden sparrow, wood finch and wood swallow on stand are distressed to look they've been handled by curious students for decades."
We home school and I think these would be a great addition to our school room! However, the price of $99 for the set, would really cut into my "school budget" for the year. So, remember these little guys flying around blog land earlier this spring?
They are from the Dollar Tree and are, you guessed it , only $1 a piece! I went to Hobby Lobby last week and found these wooden circles for .35 each on sale. The branches were free, from my property. We have and abundance of Mountain Laurel, which is very sturdy and has great texture and curves!
This is how I put them together:
First, I found some branches with as close as I could get to a 90 degree angle. Then borrowed hubby's hacksaw (I've decided I really need on of those now!) and cut and trimmed up the branches. Next I sanded the cut edges and places where I had to cut off smaller branches. I gave the wooden circles a light sanding too.
Then hubby drilled out a circle in the middle of the wood and we drilled out the bottom of the branch and glued and screwed them together!
They were ready for their coat of brown primer, followed by several coats of Krylon's Oil Rubbed Bronze.
And finally the birds were able to perch! I just used pliers to bend their little feet around the branch and
squeezed.
The Ballard birds were a wooden sparrow, wood finch and wood swallow and mine are:
Eastern Bluebird
Cardinal
and a Chickadee.
My cost, for the three birds on stand for study? A whole
$4.05
plus the spray paint, which I had on hand! That's a savings of $95.95!!! Now, I'll have my birds and plenty of budget for books too!
Good Night for now!
Sharing this here: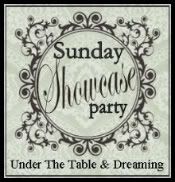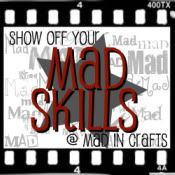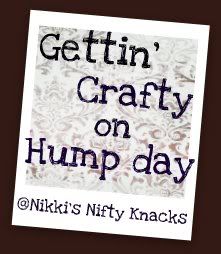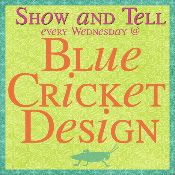 >