I can't believe that I even used those two words together! We used to love hearing "It's going to snow!". After this winter, s-n-o-w has become a true  4 letter word! We got more of the lovely white stuff last night….maybe an inch? This is much more typical of the snows we get around here. If we get one "good one" a year, everyone is happy! Schools close, businesses close, and most of the county just shuts down. After the two 8 inch dumpings we got at Christmas and right after….that stayed on the ground for weeks….well, this ain't nuthin…
soo it's business as usual! It's funny how are perspectives can change! :-)
How about a little more L-O-V-E? That's a much better 4 letter word! I wanted something to go with my 1 Corinthians 13 Word Art up on my shelf. I had my JOY-ful Frame up there at Christmas with my Scripture Tree Word Art From Kristin. As soon as I made the Joy frame, I thought about changing what was in it for different holidays and seasons.
So I decided to give it a try. I took the JOY stuff out…
I had put it in the frame in individual pieces, but I realized that a piece of 12x12 cardstock fits the area perfectly and I  could work from that!
I cut L-O-V-E out of black cardstock with my Silhouette/Craft Robo. I used red for the heart outline.
  This time I put the cardstock on the backing and then worked from the front.
I printed "…the greatest of these is…" on a 4x6 index card
and that was a little trickier getting in from the front!
Here it is up on the shelf…
I really don't know what else to put up there since I've never been a big decorator for Valentine's Day. Any suggestions? I'm not a big fan of the cutesy stuff….I did put this picture up there.
It's from my wedding day. I butchered the pictures (years ago) without having a back up copy! I thought I had cut them out to fit in the heart properly…but I lost part of hubby's head both times! The picture  seem to get lost up there…any ideas on how to get it to stand out a little more?
I forgot to take the "vote for me" blurb off of my 1Corinthians 13 Word Art post and I'm still getting "Vote" comments! Thank you all for your votes!
I better take  the blurb down though…I truly enjoyed making this and have more in the works! I was honored that it has been featured here at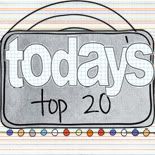 Thank you for the honor Amanda!
Don't forget to enter the giveaway for the awesome Tie Dyed Tote at the top of the page!