Happy New Year! Isn't that everyone's theme at the beginning of the year? We resolve to try new things, to be better at the old things; we clean out the old to make room for the new; we organize what we have. We strive to eat better, exercise more, be better with our finances, and the list goes on…
Well, I'm right there with everyone else! I have many of the same goals and typical for me, it's only day two and I'm already at least one day behind!!! I only have my goals and lists in my head, they aren't even written down yet! I have acted on a few of them and here is where they stand:
1. Lose weight, eat healthier and exercise
- I entered to be a contestant over at Win Lose or Blog…but I wasn't chosen…and rejection is not the best way to start out the new year! So with that, I'm looking for a plan B! The upside: now I don't have to have my actual weight posted for my friends, family and all of blogland to see!
2.Better Financial Stewardship
- We will be giving some of
Dave Ramsey's
ideas a try this year, starting with the
Debt Snowball
Which when you think about it is a no-brainer, but having the self-discipline to actually do it is another story!
3.Better Home and Family Organization
-To kick this off, have joined
Toni's 21 Day Getting Organized Challenge
over at
A Bowl Full of Lemons
. It's not too late to get started so click on the button and join us! Today is a great day to catch up as she doesn't post a new challenge on Sundays!!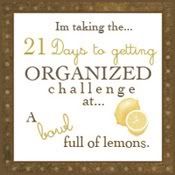 Her
Day #1 Challenge is (Organizing the "junk" drawer)
. I have two "personal" junk drawers in my room where I throw things that I want to be safe until I can decide what to do with them. Here is the drawer one before:
and after:
I do need a way to organize my frequently worn jewelry. I was about to throw away an eyeglass case (one of three I came across in those drawers) but decided it would hold my earrings nicely!
Drawer Two:
And after:
It was mostly a matter of finding the right homes for the stuff I had in there and throwing some some away, and that left the drawers almost empty!
Later today, I would like to make one of these
Mobile Command Centers:
also from Toni! I am so excited about what she has already shared, that I can't wait to see what is yet to come! A couple of ladies have created a few things to help out with the organization process. Kim, over at
Its A Crafty Life
has provided labels:
and Ellie at
Switcheroom
had made some amazing calendar pages!
You can go directly to their sites or check out
A Bowl Full of Lemons
for more info!
Last, but not least, with my house in need of attention, all my Christmas decorations still up and none of my weekly preparation even started (homeschool and co-op begin Tuesday!) I began a blog makeover! Out with the old and in with the new! First things first, right? ;-) I added a background but a friend said that she doesn't see it and I don't see it on my smaller monitor. Do you see it on the sides? If no one can really see it, then there's no need to have it there, is there?
I hope that your new year is off to a running start!