Have you ever seen a a picture in a magazine and said "I
have
to make that!"? That was exactly what I thought when I was flipping through December's Copy of
and saw this
The 1997 "Good Thing" feature.
Living
was featuring one "Good Thing" project from each of the past 20 years. I love decorating with peppermints at Christmas
and
I love glass and pedestals together sooo I started looking through my stash of pedestals. I've been collecting them for about almost a year ever since I saw the DIY apothecaries and cake stands. Now I "shop the closet" first when I want to do a glass project.
What I couldn't find in the closet, I found at the Dollar Tree!
From Dollar Tree:
1 Clear Glass Dinner Plate
1 Clear Glass Dessert Plate
1 Sundae Glass
1 Set of 3 small glass bowls (originally from DT but were in the closet)
3 glass tea light holders (originally from DT but were in the closet)
Plastic twisted candy ribbons
From the closet (thrift store):
2 glass taper candle holders
Candy Canes and Peppermints
From Walmart:
Gorilla Glue
This is a pretty self explanatory project, so here it is in pictures:
It took about 15 minutes to put it all together and it looks fun and festive! The only problem is that the candy doesn't stay in it long! I've been through several bags of peppermints already. I think the kids think they have to grab one every time they walk by! I may have to switch to all plastic candy! Fast, easy and inexpensive….my kind of project!
I will be entering this in Dollar Tree's Christmas Craft Challenge. Voting will begin on December 17th and end December 28th. Naturally I think this is an awesome project….if you agree, I'd appreciate your vote!
I'll also be linking up to the many of the parties in my sidebar as well as the ones listed below.
Roeshel from The DIY Showoff is having a Holiday Link Party!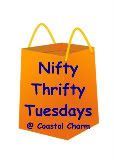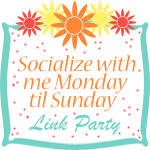 Don't forget to enter my CSN giveaway by clicking on the banner at the top of the page.