Welcome  to the second edition of Friday's News Flash!
Friday Finds
As I traveled around to the many awesome linky parties this week, I found a lot of inspiring "Back to School" projects! Here are some (in no particular order) that stood out to me as some I'd like to try in the near future!
Organized "school wall" with labeled buckets @ Domestically Speaking
Definitely "a place for everything and everything in it's place!" I love the chalkboard labels on the buckets!!
Fabric Covered Notebooks
These are too cute and super simple! My girls cover their journals and will love this!
Field Journal @ Craftopotamus
I LOVE this idea! It could be used for a boy or girl! My son is an avid birdwatcher, outdoors lover. I'd love to have him make a keepsake like this!
Giveaways
I really want and NEED one of these! Giveaway ends Saturday, so head that way!!
Visit this party for Halloween/fall craft ideas! By Your Hands is also holding a Handmade Sampler Giveaway, sponsored by Deena Davis of Ewe-N-Me Printables. Deena is offering a $20 gift certificate to her website, Ewe-N-Me Printables. A winner will be announced August 27.
Hot Pink Patent Wallet
When I wasn't visiting around the blogoshpere I was visiting around the thrift stores! This is what I came home with this week:
Another apothecary (like I need another one!), a hummingbird feeder, a regular birdfeeder made of green glass,  a wire basket for the garden and a metal container, yeah I needed another one of those too! :-)
A quick visit into TJMaxx yielded this watering can on clearance for $2.50, because the spout needed to be glued back on and a bag of fall type decor balls and filler for $3.
No trip to my daughter's orthodontist would be complete without a stop at Dollar Tree!
Some basic organization stuff, a really interesting book on stuff to teach your child about being an American see that hot pink star??? That is about to become a template for my next project!
I have been invited to a couple of new parties this week! Will you join me?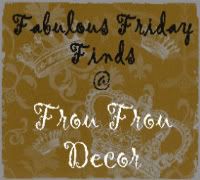 A great place to visit and make new friends each Friday:
Have a wonderful weekend!