Happy Friday! I hope everyone is looking forward to a fun weekend with family. I know that for many this is the last weekend before school starts!
We have some out of town family coming in for the weekend. It will be busy!
I have noticed that since I've been able to read more blogs lately that I find many things that I'd like to share from giveaways to and fun projects to worth causes to support! Doing a post for each thing that I would like to share would be overwhelming to me and to whoever is trying to keep up with them all! :-) I don't want to be "random" either, so I've had an idea! I'm going to try a "newsflash" Friday approach. On Fridays I'd like to share giveaways that I've found, great projects that I can't wait to copy try and other things that may be of interest. What do you think? Let's give it a try:
Giveaways
Julie @ Less Than Perfect Life of Bliss is giving away one of her gorgeous personalized corkboards!
 Mama Chocolate (a brand new blog) is giving away a copy of Artisan Bread in Five Minutes a Day. I really want this book! :-)
New Parties
I found a few new parties to join! Check them out!
I didn't know there were so many of these types of parties!!
A new linky party I was invited to: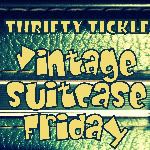 The thriftyba is also having a party this week!
She's promising us we'll have a BALL! ;-)
Favorites
I hesitate to say "favorites", but these are some projects that caught my eye and went down on my "I gotta do this" list!
What an amazing transformation!
By Jan over at BobbyPinsboardwalk. I've heard of spray painting, even done it my self, but I LOVE this idea!
Basket Liners
from Keep it Simple! I've been looking for something like this to try! I have a hoard collection of baskets!
from Sarah @ A Little of this A Little of That. A great tutorial! I won't be framing doormats, but I do have a project that involves making frame, so I was glad to find this!
Last, but definitely NOT Least, a very worthwhile cause:
Ashley, @ Cute As A Fox Creations is offering a customized washer necklace or keychain when you make a donation through her sister, for Breast Cancer Research. This has recently taken on a new dimension in our family as my Mother-in-law was diagnosed last week with breast cancer. Please go by and support, Ashley,her sister and all of those with breast cancer waiting on a cure!
That's it for now! Updates as breaking news happens! :-)