I LOVE Coffee!!! My friends and family know how much I LOVE coffee…fresh ground, fairly strong coffee with just the right amount of cream (half and half) and sugar! My sister in law gave me a little sign in the picture below that says "Give me the coffee and no one gets hurt!" So my coffee grinder and coffee pot are the most used appliances in my house…my husband and son drink coffee too! :) Since we use everything several times a day, it stays out on the counter. I like to have everything within reach but was getting tired of how messy my coffee corner looked most of the time. So I started keeping my eye out for containers that would be easy to open and close and look good too. *I'm going to interrupt myself here to say that I FINALLY remembered to take BEFORE pictures and had everything laid out in steps with good pics and I let my son DELETE them….GGGRRRRR..So I am restaging the best I can!*Here is the lineup:
First, I found the smaller jars like the one on the left at Dollar tree and the larger one on the right at Dollar General. Then at CVS, I found on clearance for .75 a very wide mouth but plastic Rubbermaid jar that could hold my coffee filters. That was my most difficult find, something with a wide enough mouth that wasn't a HUGE container. I didn't have two of them so you don't get to see a "before" of that one. I liked the style of the jars, but not the white lids…enter MR. ORB…and his very helpful friend Rustoleum Plastic Primer! I coated the white plastic lids with two very light coats of the primer and then two coats of the Oil Rubbed Bronze. I was skeptical, cause I've never gotten any paint to stick to plastic, but this stuff did!
Did you see the old metal tray behind the jars and paint? He got a couple of coats of ORB too! I love that stuff! Then I let everything dry for several days, because it will be handled ALOT! Tonight, I put it all together:
OOPS! I almost forgot about the labels! I have another new best friend…my Craft ROBO
vinyl cutter. It's like a Cricut, but you don't need cartridges and it hooks up to your computer. Lots of fun! I made a labels from black self-adhesive vinyl for each jar: Coffee, Filters, Sugar and Creamer. This is the first project that I have done with the ROBO, but I think we are going to become good friends!
Everything fits together with my grinder on the metal tray! I like the way it looks all neat and tidy!
I'm going to share this over at:
She is starting a new weekly linky party
"Spotlight Yourself"!
And she's kicking it off with a great Jewelry giveaway! Go check it out!
Her It's so Very Creative Monday is a Blog Hop this week!
I am also sharing at these fun spots:
The Persimmon Porch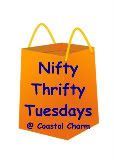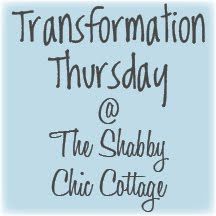 Taking life one cup at a time, good night!