Good Monday Morning!!! When I posted the closing date of the giveaway, I had no idea that the following weekend would be so busy and that I would have to wait until Monday to announce the winner. So without any further waiting…..
The WINNER is:
Comment #17, as generated by random.org, Heidi Wendland!
Congratulations Heidi! We think alike on the fall decorating…I love the "smells" of fall too!
Thank you everyone for entering and giving me some awesome ideas for fall table decorating and the input on what to do with my gate-leg table. I'll be sharing more on that soon.
There were some other winners on Friday, not through my blog, but over at The CSI Project. I love it over there! The challenges over there provide me with a lot of inspiration! On the weeks that they are hosting something that I want to participate in, I stay on top of getting a project finished because of the deadline to enter. It's not a month long project that I will tend to think that I "still have time" I know that I only have from Tuesday 'til Thursday or I've missed it…and I have …more than once! I work so much better with a deadline…even if it's getting cleaned up for company coming! :-) I also get so excited when I see all the other projects…I usually end up wanting to try several.
I love these from
Nine to Midnight Designs.
and I want to try something like this from
Infarrantly Creative
for my laundry room which is a work in progress.
My friend Nikki from
Nikki's Nifty Knacks
and I both made the Top 10! Woo-Hoo!!
Here are Nikki's Ballard Boxes:
Lori's comment: "I am a sucker for silhouettes and the fact that you can hide stuff in these storage boxes is such a plus! I am all about hiding the ugly inside something cute!"
And my Ballard Birds:
Lori's Comment:"The birds in this project were so great. SO cute! But it is really the sticks that they are standing on that I love! I actually have some ideas on how I am going to implement them into some holiday decor!! So excited to have such a great tutorial on how to make them!"
Thank you Lori for liking my little birds and your kind words!
Lori from Be Different, Act Normal
was the guest judge this week. She has a link party on Saturdays that I can't wait to join!
Here is the Calendar for the upcoming challenges at The CSI Project:
I also had a small but winning (at least in my book! ) project this past week. I found this wooden basket at the thrift store time ago. It was looking a little tired.
After wiping it down with some Murphy's Oil Soap. I dry brushed some opaque black acrylic paint over it
and was amazed at the transformation!
Instead of old and worn out, I have aged with detail
and warmth…
I love it when a little project like this turns out so amazingly wonderful! It took me all of about ten minutes to do this! I filled it with some ummm…filler…
and now I just need to find the right spot for it! :-)
So, it's been a winning weekend!
Sharing my wonderful new wooden basket at:
and some of the parties listed in my sidebar like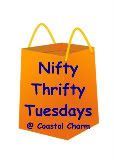 Come along and check out some very inspiring projects! I found a new link party here: