Fall is my favorite time of year!! I grew up in South Florida and never really knew a change of seasons. Now I am in the North Georgia mountains and even after twenty years I still look forward to the brilliant colors on the mountains, the smell of oak from first fires in the wood burning stoves and the crisp fall air!
This year a very HOT summer has lasted a little longer than usual by about two weeks. I am so READY for fall!! It has rained most of  today ahead of our first official cool front. We will be in the low 70's next week after highs in the high 80's to 90 last week! YAY!
If it's going to start feeling like fall, I guess it's time to start making it look like fall. I love fall decorations, the warm rich colors, the spicy scents available in candles…mmmm. Since I am so behind on everything, and easy place to start decorating is the dining room table. I've been sitting on this inspiration since last year. I found this  between Thanksgiving and Christmas last year, right after I discovered so many wonderful creative blogs. Here is my inspiration:
photo from Williams Sonoma
I saw this on

and knew right away that I had to make on of my own too!
I found a large vase on clearance at Walmart for $2 and found the pedestal at the thrift store. A little e6000 and I had the beginnings of my WS knock off!
I used the bottom of an apothecary jar to hold the candle inside of the vase and dollar store leaves to go in between.
I put one of these cuties on either side of the candle. They are one of those amazing Dollar Tree finds! I found the plastic acorns there too.
  Well, I'm happy with my fall table, but not the pictures. :-( They will have to do though. I'm camera shopping and until I find the right one, my pictures may leave a little to be desired. I had take one of the whole table but everything seemed to be lost from the distance so we'll just go with the close ups.
One fall project down and many more to go…
There are some very inspiring Fall link parties happening. Come check them out!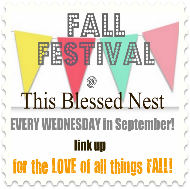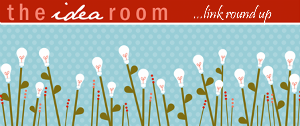 I'm also participating in Get Your Craft On over at Today's Creative Blog.
Happy Fall Ya'll!