Wow! Three posts in three days…I'm on a roll! As excited as I was to share my news, it's been a busy day! Hubby has been working out of town all week and I've been doing all of the boys baseball practices as well as getting my other kids where they need to be! Everyone is finally settled in and I'm able to share my exciting news!
I Am A contestant on Season 4 of Win Lose or Blog!!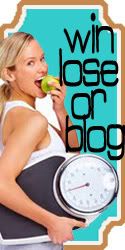 I am so excited about this!! It's "The Biggest Loser" …blog style! There are eight contestants and they have set each of us up with our own WLB Blog to share and track our progress. You can meet all the contestants here. You can read my introductory post…complete with picture here ….but you won't find my weight listed anywhere! ;-) I will be laying out my goals and plans and then tracking my progress there several times each week. I'd love to have you visit and help to keep my motivated and encouraged with your comments. There will be prizes for comments left on contestant's WLB blogs as well as the main WLB blog and giveaways at the main WLB blog!
I know that this challenge is just what I need to help get me on a healthy track for eating and exercising and I'm ready to get started! Come with me and check it out!
Let's inspire each other to a healthier lifestyle!